So ever since I saw the trailer a billion years ago, Whiplash has been on my Must See list of 2014. And, yes, I am aware, it's now 2015 (thank you) and I've only just rented it today so shutup and stop pointing out my flaws okay?
Moving on. Miles Teller became one of my favourite PYT's after his performance in The Spectacular Now, and I've seen just about everything he's done since then. I also won a bunch of cool Insurgent related stuff at the premiere in my hometown because I knew who he was and apparently no one else in a whole full cinema did, so obvs we're destined to get married. Anyway.
JK Simmons is also one of those brilliant actors you see in things and enjoy performances of but has never (for me at least) had that huge breakout moment that solidifies his name in your brain. I'd always see him and be like "Oh the dad from Juno's in this, cool!" but he'd never stepped into "Oh JK Simmons is in this, cool!"
He looked absolutely fierce in the Whiplash trailer, and won Best Supporting Actor at the Oscars for it though, so I'm expecting to see some fire and brimstone, and a performance to cement his name with.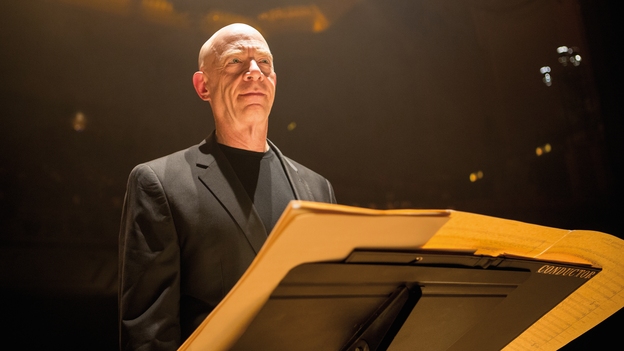 Because I wanted to do something fun for what I assumed would be an intense film, I decided to do a "thoughts I had while" post. But this film is by far one of my favourites in the whole world, so, I thought I might expand on them a little throughout.
ENJOY. (Also, language warning, I may or may not have dropped a c-bomb in amidst the yelling…)
109 thoughts I had while watching Whiplash:
I wonder if Miles Teller was this good before he got the role of if he had to train up? *researches*
(Okay so he sure as hell was playing, but trained in jazz drumming for the role. Fucking amazing, Miles Teller you badass.)
Mmmkay I'm not sure the sound editing works but okay
OMG JK SLAYYYYYYYYYY "You turned into a wind up monkey"
Why did he just put some form of candy into the popcorn?
OMG IRA FROM MAD ABOUT YOU ❤
Awwww Miles the outcast… is creepily watching people make out why what?
Musicians, musicians everywhere
JK Simmons is perfection
This movie makes me miss my high school music classes 😦
(Like for real. We had the best teacher, and she loved us and we loved her and she didn't make us want to cry and we got to play Take Five and Tequila and stupid pop songs and it was great.)
Yeah okay the sound editing in this film sucks
(Okay so I checked and it won a ton of sound awards, which, how, based on the first 20 minutes of this film HOW)
OH SHIT MILES TELLER GOT PICKED FOR THE STUDIO BAND YO
Ahahahahah core drummer is piiiiiiiiiissed
Okay he's hitting on the girl at the cinema and it's weird and awkward and stop Miles, STOP
She asks where they're going and he says pizza. Like pizza's cool but what? That is so boring dude
Hahahahaha falling down the stairs is what you get for being late. Literally no sympathy for the ass whooping that is coming from JK.
OMG 9AM CLASS NOOOOOO
Okay those two B flats sounded different but sure Piano Man, sure.
Oh god no wonder he won the Oscar, JK YOU ARE GOLDEN MAN
HAHAHAHHAHA FUCKING HELL "That is not your boyfriend's dick, do not come early."
Out of tune player oh no this is heckerrrrrrrrrrrrrrs
That was just mean JK, wow. Poor Elmer Fudd 😦
OKAY WHAT THE FUCK YOU JUST RUINED HIS LIFE AND IT WASN'T HIM?
this movie is going to be insane oh my god
dragging and rushing dragging and rushing
HAHAHAHA HOLY SHIT FLYING CHAIRS AHOY
christ almighty this is brutal
oh no he's crying oh no oh no stop crying Miles
"Do I look like a double fucking rainbow to you?" Ha!
OKAY THIS IS WAY TOO MUCH STOP NOW JK
Wait did this movie win the sound editing Oscar? Because I know it was nominated and I don't understand why
(Okay I get why by the end of the film but the first half hour sucks)
Mmmmm delicious bleedy callouses
Teller's so cute omg loving jazz and naming jazz songs to the cinema girl on their date
Cinema girl doesn't have a major and he's interrogating her about it and this is super awkward and she hates him
Oh wait she's opening up now why
AHAHAHA FOOTSIES UNDER THE TABLE WHAT IS THAT STILL A THING?
OOoooOooh competition night
Haha wow competition time sure brings out the best in JK….
Oh no he lost the folder oh no oh nooooooooooooooooooooooooooo Miles Teller nooooooooo why did you say you could do it you're gonna die
OH SHIT THEY WON FIRST YAAAAAAAAS
MILES TELLER JUST BECAME THE CORE DRUMMER OH MY GOD
Cinema girl is keeeeeeeeeeeeeeeen
Oh god horrible family dinner when Miles Teller's mad skillz aren't acknowledged at all because… football? or something?
"How do you know who wins a music competition, isn't it subjective?" GET THE FUCK OUT ASSHOLE NO IT ISN'T SUBJECTIVE FUCK THIS HAS MADE ME IRRATIONALLY ANGRY
(I get really mad about people being judgey about the arts because it's not black and white like maths or fucking science. SHUTUP AND FUCK OFF)
Oh wow this dinner is getting hectic, Miles Teller you sassy motherfucker
Ahahaha competition for Teller in the Studio Band ruh roh
JK SIMMONS YOU ARE THE DEVIL
Oh no there's a thing going on for JK and it's making him sad not just mad oh no this is not going not be a fun time for me watching the thing
Teller's telling Cinema Girl why they shouldn't be together because he's a child and can't dedicate her any time because he's the best drummer ev0r?
Ooooooooooooooh controversial way to end a relationship dude
YES I LOVE YOU CINEMA GIRL YOU DO YOU YOU TELL THAT ASSHOLE
This is a mess
Okay punching through your snare sure
oh no the sad thing OH NO JK NO *crying 5eva*
Hahaha and right back to being a cunt cool
this triangle of tryouts looks like they actually aren't even playing they're playing that fast oh my god
blood on the snare okay someone should clean that because hygiene
FUCK HAHAHAHA HE HAS TO DO THAT AGAIN
Does anyone want to be a musician that badly? Like for reals this kind of abuse just isn't right
OH NO OH NO HE LEFT HIS STICKS ON THE CHAIR
oh shit he's talking back to JK oh shit oh shit oh shit
OH SHIT NO he's going to get a ticket or something stupid
oh my god of course that happened of course he had a car accident of course
um excuse me how is he not actually dead it was a semi fucking trailer
WHY IS HE STILL TRYING TO PLAY THE COMPETITION WHY WHAT ARE YOU DOING MILES TELLER
How is the adrenaline not going to fuck up his tempo?
Surely there's no way this is going to come off
whoop there goes his stick this is fucked
OH NOW HE ISN'T PLAYING AT ALL OH SHIT OH SHIT
GET UP OFF THE STOOL MILES TELLER GET UP LET SOMEONE ELSE PLAY HURRY UP
Oh my god are you serious why why why why is he attacking JK Simmons oh my god wow okay you're never ever playing ever again oh my god what is wrong with you Miles
Is it smug if I say I knew that Casey kid committed suicide? 😦
Okay so Miles got expelled from Schaffer, what are you gon' do now dude
Oh Ira 😥 Protecting your son, I can get down with that
I feel like the anonymous thing about ruining JK Simmons' conducting career will come back and bite you in the ass Miles Teller r u sure bout dis?
HE'S THROWING HIS DRUMMING THINGS AWAY WHY WHY ARE YOU DOING THAT MILES TELLER
Oh he works at a taco place now 😦 this is so not where I wanted this to go 😦
Don't text Cinema Girl now that your dreams are over, she's not gonna care
AHAHAHA HE FOUND JK PLAYING LIVE OH THIS BETTER BE GOOD
How is he so chill at the piano tho
Why are they talking
OH MY GOD HE GOT BOOTED FROM SCHAFFER I JUST THOUGHT THAT WOULD NOT HAPPEN
Hahaha they're talking like they're friends and not want to murder each other k
"I don't think people understand what I was doing at Schaffer" uhhhhhh, okay like ruining lives or..?
"There are no two words in the english language more harmful than 'good job'" for all his shit, I can dig this one
I can see Teller's respect levels growing in this scene but JK's still an asshole so
Miles Teller is going to play in the band JK Simmons is leading and tbh i just know it's all going to come out that Miles Teller dobbed him in and that's going to be so ugly and gross omg
HE STILL HAS HIS DRUMS YAY
Oh no don't call Cinema Girl you idiot
STOP ASKING HER TO GET PIZZA FUCKSAKE WHERE'S YOUR GAME
LOL She has a boyfriend now NICE ONE CINEMA GIRL
Dayum, lookin' sharp Miles ❤
What. What happened to horrible JK Simmons man? HE JUST SAID LET'S HAVE FUN WHO ARE YOU
"I know it was you." ohhhhhhhhh fuck this is going to be ugly
You are joking
holy shit he's going for it he's playing this fucking song he doesn't know or have charts for oh my god
This is my favourite thing in the world oh my god it's like FUCK YOU JK SIMMONS I'M COMING FOR YOU EVEN IF I LOOK LIKE AN IDIOT RIGHT NOW
Hahahahahahahah the applause oh my fucking god
This next song better absolutely slay I swear to jesus
NO DON'T GET UP AND LEAVE WHAT ARE YOU DOING STAY AND FINISH STAY AND FINISH NO COME ON MILES FUCKING SLAY HIM
YAS BISH GO BACK OUT THERE YAS YAAAAAAASSSSSS
oh my god what why what are you doing HE WAS TALKING HE'S GOING TO MURDER YOU NOW MILES
Oh. Oh my god. OH MY GOD YAS BISH SLAYYYYYYYYYYY
I fucking love everything about this
I LOVE YOU MILES I LOVE YOU YAAAAASSSSSS BABY
This is the best and I am in love with musicians all over again oh my god
OH MY GOD MILES TELLER YAAAAAAAAAAAS KEEP ON ROLLING YOU FIRE DEMON
"I'll cue you!" FUCKING YES YOU WILL YOU CUE HIM GOOD
Oh and it's over. Oh. BUT I WANT MORE but I also don't because that was perfect so…
Thank you GOD for that film ❤

9.5 drum solos for that magic time. If the sound wasn't off for the first half hour, you'd have had 10.
❤ ❤ Amaaaaaaazing ❤ ❤